If you are planning on participating in Infinity's brand new contest, Warcrow, during Interplanetario in Vigo this summer, you might want to take a look at this mini.
Achilles v2 was released to celebrate the 10th anniversary of Infinity (10 years already? wow, time really flies). It's basically the second version of Achilles, one of our all time Infinity favourite.
Let's see what you will find in the box should you decide to participate in the Warcrow "Especialist Crow" category.
The boxed set comes in a deluxe package this time. All hail especial editions!
It features the alternative version of Achilles v2 on the other side of the box.
When we open the outer packaging, we find the classic Infinity cardboard box.
But on the inside, there are more goodies than normal.
First of all, the minis. The box comes directly with the complete two versions. The body is the same in both cases, the difference is the head and arms. You can use any combination of them to create your own Achilles v2. That is very interesting especially for those participating in the "Especialist Crow" category of Warcrow.
The heads are quite interesting. Thanks to the size of the mini, they will be quite interesting to paint.
Look at the arm with a sword, you can really appreciate the quality of casting and sculpting. It feels like looking at a metal rendered 3D model of Achilles v2.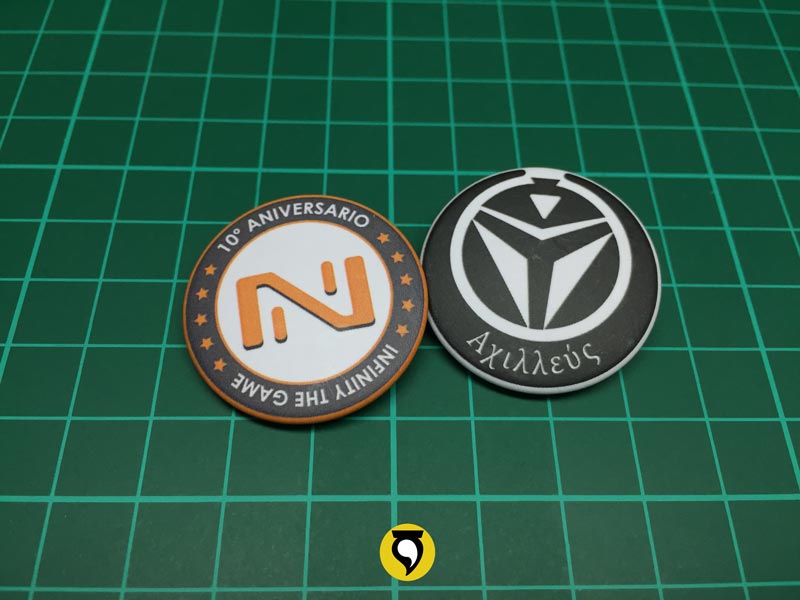 These are the two badges that come as celebration of the 10th Anniversary.
Also a couple of postcards. I wonder where they got the San Giovanni name. 🙂
Achilles really looks like Brad Pitt. Coincidence?
CONCLUSIONS
This is very nice kit. Two versions of the same mini, big and lots of goodies. Definitely worth the purchase!
PROS: It's Infinity, you get quality of design, sculpt and cast. Top of the line!
CONS: The poses could be more interesting, but the bright side is that they will give you a lot of freedom for painting. The biggest problem is that since it is a limited edition, it is going to be quite difficult to find by now.