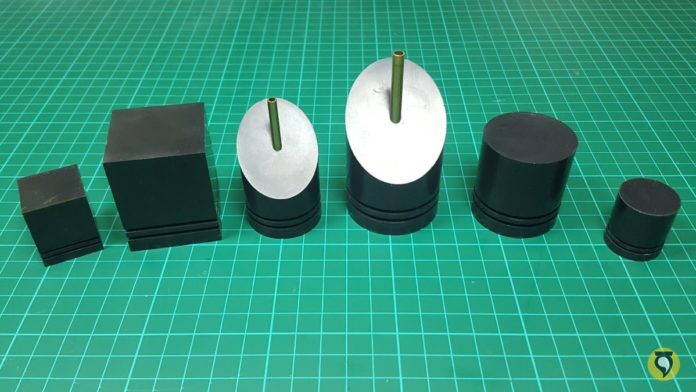 When it comes to showcasing your miniatures, there's an extremely important factor that comes into the equation: plinths. Whether you want to display a showcase level wargaming miniature, or a larger scale miniature creation, plinths are the base that make your creation stand out from the shelf. Careful choice of the plinth is key, as this usually accounts for 50% of the actual composition when you see the piece in its entirety. Plinths are very often neglected by those who are unaware of their importance. That is why today we want to review a line of very interesting plinths, made in resin, by the company Darkmessiah Bases. We got our hands into a set of different sized and shaped plinths from Darkmessiah Bases and we want to share them with you.
DARKMESSIAH BASES PLINTHS REVIEW
Here is the complete set of bases we have worked with.
The choice of the proper base for a miniature is not a simple task. We have to take into consideration the effect that the size, shape and colour of the plinth will have in the whole composition. The material and texture of the base also plays a huge role, and there's plenty to choose from. Mastering the art of plinth picking is not easy, and that's where plain black resin bases come in handy.
The size of the plinth is the main factor, because of the huge impact it has on the weight balance of the composition. Modellers have very personal taste when it comes to sizing, but generally you do not want to use a plinth that is too small or too big in comparison with the model.
Shape choosing is also tricky. As a general rule of thumb, squared bases are usually the choice for those who want to force a clear frontal view of the model, and usually benefit from the side and rear views created natually by the square shape. Round bases create a more natural flow for model viewing, inviting the audience to gaze around the whole model to create a 360º impression.
When it comes to picking colours, black plinths are an all-time winner. They are the most commonly chosen by model makers everywhere. They are considered elegant, sober and guarantee almost no distractions from the actual model.
The choice of material is always very personal. You have to think about the finish and texture of the plinth or whether you want a gloss or matte varnish. It will also affect the overall weight of your creation, as well as the resistance of the product. Wood bases are the most commonly spread, but resin is becoming more and more popular mainly because it is usually cheaper to produce.
Let's go back to the product we are reviewing today. Darkmessiah Bases is producing a variety of different sizes of round and square resin bases, all in black. To make them special from the rest, they have a very distinct feature: two lines carved at the bottom (or at the top if you want to place the figure on the other side).
They also produce bases especifically created for busts. These come with a brass rod that can be placed on the bottom of the bust and is attached to the plinth on a hole already prepared for this purpose.
They also have diamond shaped plinths for busts. The whole range comes very well explained in their very cool design blueprints that you can check in their website.
CONCLUSIONS
Bases from Darkmessiah comply with our personal preferences for plinth picking. Plain, simple and black, with a wide set of sizes, perfect for any purpose. The type of bases you want to keep in your drawer for any kind of project that may suddenly arrive at your desk.
PROS
Classic concept that fits a wide variety of purposes, with a very distinct twist, the two carved lines that make them stand out from the rest.
Whether you have a very specific miniature project in mind, or you want to have some spare bases at hand, Darkmessiah Bases products are extremely versatile.
Black is always elegant. You will never fail with this choice.
CONS
The range is a bit limited at the moment if you need a customized size for your creation. We are looking forward to more Darkmessiah Bases in different heights and more shapes!
Coincidentally, Darkmessiah Bases is currently running a Halloween Sale that starts on October 26th 2017 until October 31st. All their products have a 20% discount! A great opportunity if you want to add some resin plinths for your upcoming projects.
We leave you with the website of Darkmessiah Bases. You will see there's a bit more than just bases, and the range will probably grow with time. You can also contact Darkmessiah Bases on facebook.