Games Workshop has just unveiled today its plans for the next 12 months regarding the Golden Demon contest. Seems like they are going to stick to the strategy of holding various mini Golden Demons throughout the year and one big Classic to round it up.
The first mini event: 'Golden Demon: Warhammer', in August 2016.
The second mini event: 'Golden Demon: Enemies of the Imperium', in November 2016.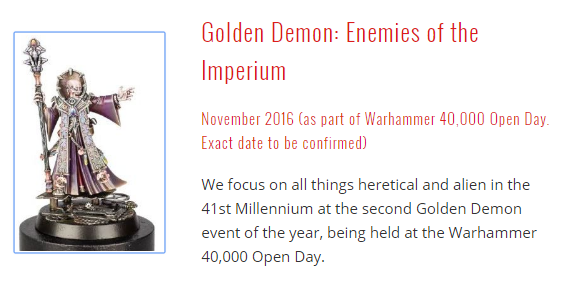 The third mini event: 'Golden Demon: Horus Heresy', in February 2017.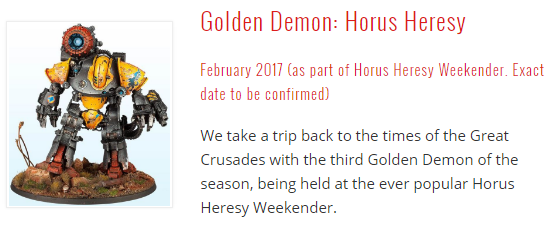 And finally, the one we are most used to: 'Golden Demon: Classic', in May 2017.
Good news to have official confirmation a year in advance that the Classic will take place in May during the Warhammer Fest. Seems as though Games Workshop did not have trouble booking the venue in advance! Or at least they are committing to do it!
It still troubles me that the mini events give away a Slayersword. I am happy to see the mini events in the calendar because I think the new format can be appealing to a lot of GW fans, and it is certainly better to have these than just one big contest and that's it. However, by giving away the Slayersword, I think the recognition that is supposed to be attributed to this legendary grand prize, is reduced by comparing it to the Classic one.
Why not give a plaque like they do in the Open category of the Classic format? Or a different statue, like the busts from Games Workshop local contests or events they used to give back in the day. It would still be something especial and not comparable to the Slayersword, in my opinion.
Find all the information about all the contest flavours in the Warhammer World website.
What do you think? Are you happy with the plans for the next season of Golden Demon?